Skip to Content
Get To Know North End, Boston
Our North End Boston Food Tour is a leisurely-paced daily walking food tour. Get to know the North End with a lifelong resident Bobby Agrippino. The truly authentic experience combines the North End of Boston's Little Italy's culture, history, and personal stories, with Boston's best Italian foods. Explore the back streets of this 0.3 square mile neighborhood and meet the shopkeepers Bobby grew up with. Learn all the personal stories of each of the mom-pop businesses. Join us as we eat, see, and learn our way through this unique neighborhood, which was settled by Italian immigrants in the late 1800s. What sets this tour apart from all the others? Bobby is a real local who grew up and still lives in the neighborhood, and we eat large portions of delicious Italian foods. COME HUNGRY!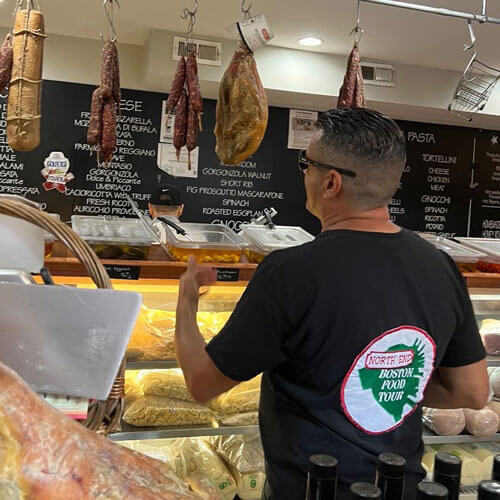 The Experience
As we explore all 0.3 square miles of the neighborhood, all of our senses will be sharpened. We will eat our way through the hidden gems of mom-and-pop shops that have been the staple of the area since the 1900s. The Italian neighborhood is bursting with culture and history that dates back to the 1860s when the first Italian settlers arrived. You will hear from me personal stories about the people who lived here. We will meet real Italians along the way and eat real Italian foods. The food that we eat along the way is included in the tour price, so make sure you arrive hungry. Along the way, there will be opportunities for shopping, so ensure that you have cash ready with you. We will be feasting on glorious food and culture the entire time.
Book a Tour Today
When you choose North End Boston Food Tour, you are choosing the opportunity to expand your knowledge and experience of North End, Boston. With the guidance of Robert Agrippino, you will travel along the cobblestone streets of the Boston, MA neighborhood. This immersive experience will leave your belly full, and your mind stocked with cultural and historical information. Who says you need a passport to experience Italy? North End, famously known as Little Italy of Boston, is waiting for you. You will see historical sites like the Old North Church and the Paul Revere Statue. If you are looking for the best way to spend an afternoon, meet us at the Tony DeMarco Statue on the corner of Hanover and Cross Street, Boston, MA. You won't regret it. Contact our team today to book a tour with us.
Schedule a Tour With Us Today