Skip to Content
North End, Boston Tour Reservations
North End Boston Food Tour is a tour of North End, Boston that includes a light walk throughout the quaint, historic neighborhood. Together, we will carve a path through the charming streets of North End, seeing historical landmarks and eating delectable food paired with Italian wine. North End is one of the oldest neighborhoods of Boston, dating back to the 1800s. You will be guided by a local for an authentic experience. You will learn the history and culture of the area like the back of your hand. With our guidance, you will have a fulfilling experience in North End, Boston.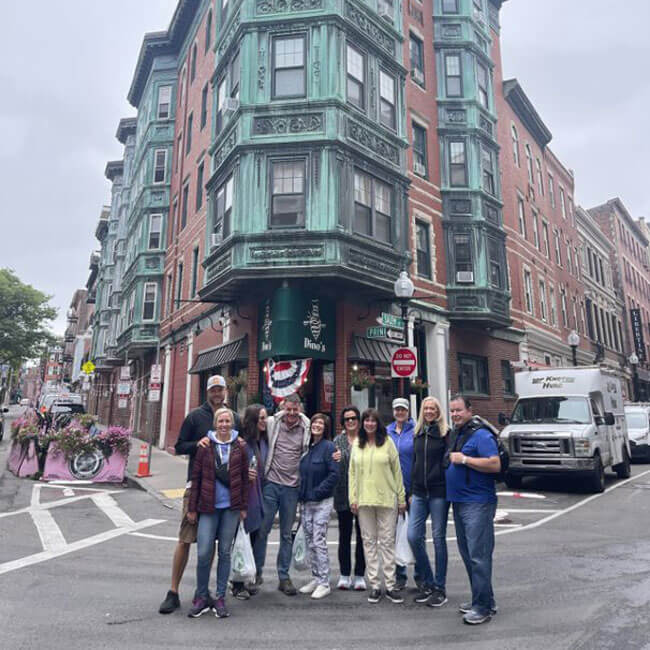 An Authentic, Fully-Immersive Experience
Be prepared to stroll through the cobblestone streets and have your senses heightened. With a combination of wine, food, and sightseeing, you will end the tour fully satisfied, physically and mentally. With details that you can't get anywhere else, our authentic tour will enlighten you on all the ways of the locals. You will see out-of-the-way establishments and the hidden gems that only the locals know about. Our fully-immersive experience is available to groups and can be used as a corporate team-bonding event. Our tours are the perfect way to get out, explore, and bond with the surrounding community and each other. All the food we will eat and wine we will drink is included in the price of the tour, so make sure you come hungry.
Book Your Tour Online Today
Come on over to North End, Boston and experience the tour of a lifetime. You will not be disappointed. Our tours are authentic as can be and extremely informational. Not only will you be seeing the sights, but you will be eating like a local. Along the way, we will meet real Italians and eat real Italian food. With the guidance of a lifelong local, you will have the most immersive experience possible. Enjoy your time in Boston the right way and come see the historic neighborhood of North End. We are ready for you to join us. Come hungry and with an open mind. Together, we will have a wonderful time full of Italian foods, wine, history, and culture. Our tours offer full meals so you won't go hungry. If you are looking to do some shopping, bring along some cash with you as most of the shops we will visit are cash only. Don't wait! Book your tour online today.