Skip to Content
Meet Your Tour Guide
Welcome to North End Boston Food Tour. Today, you will meet your tour guide in Little Italy of Boston, MA. My name is Bobby Agrippino, and I am the owner and tour guide of North End Boston Food Tour. I was born here, and I have lived in this quaint Italian neighborhood for my entire life. As a lifelong resident, I can educate you on things that no other tour can. Join me today for an experience of a lifetime as we travel back to the late 1800s and back to the present day. We will go off the beaten path and visit the nooks and crannies of this 1 square mile neighborhood and learn about the history of the first Italians who settled here and how this neighborhood came to be what it is today. All the delicious food and wine we will be eating and drinking is a bonus to the culture and history of this wonderful neighborhood.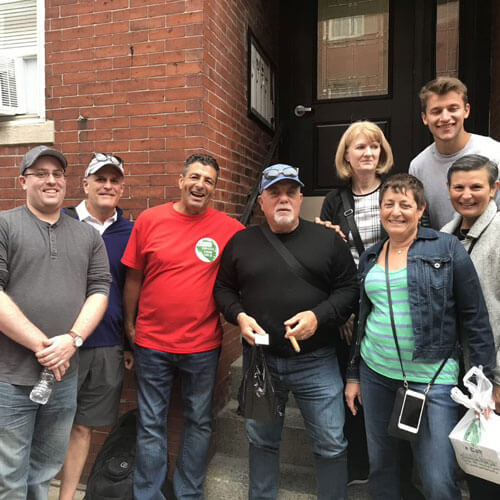 About the Neighborhood Tour
You Never Know Who You'll Meet Along the Tour!
Together, we will traverse the neighborhood learning about the Italian foods and wines that tie into the culture of this unique neighborhood and its history. It was written in the 70s that this neighborhood had a greater population than that of Calcutta, India. Within one square mile, more than 45 thousand Italian and Italian Americans lived here. As we go, I will share personal stories about playing in the streets to Sunday dinners of thirty relatives eating and drinking together. We will adventure to the mom-and-pop shops, which are the cornerstone of this neighborhood. For an authentic experience, I have taken the time to arrive on a first-name basis with all of the shopkeepers. Along this tour, we will eat like real Italians and meet real Italians. There are no tourist traps here, only an authentic experience.
What You'll See, Eat and Experience
On this 3-hour guided tour, we will go off the beaten path of this 1 square mile neighborhood and discover hidden gems. We will visit the famous Hanover Street and Salem St, where we will discover famous pastry shops that are serving up delicious cannoli, sfogliatella and Italian cookies. With my experience of owning my restaurant, I will recommend only the best of the best. Let's visit a couple of the Salumerias (delis), where we will sample cheeses, dried cured meats, extra virgin olive oil, and delicious balsamic vinegars from different regions of Italy. We can't leave the Salumeria without eating one of the staple foods of Little Italy, a delicious Italian Sandwich. I will take you back into a time capsule when we visit a coffee and spice shop from 1932 and indulge in delicious coffees. Let's visit a bakery that uses a 160-year-old starter brought over from Naples, Italy. Let's stop and eat a popular Sicilian street food the Arancini. These mom-and-pop shops are the cornerstone of what is left in this unique neighborhood. As we make our way, we will pass on by the cobblestone streets where the oldest house in Boston is (Paul Revere House). We will learn about where the beloved Rose Kennedy was born and Baptized and had her funeral services at St Stephen's Church. All the large portions of food are included in the price of admission. COME HUNGRY!!!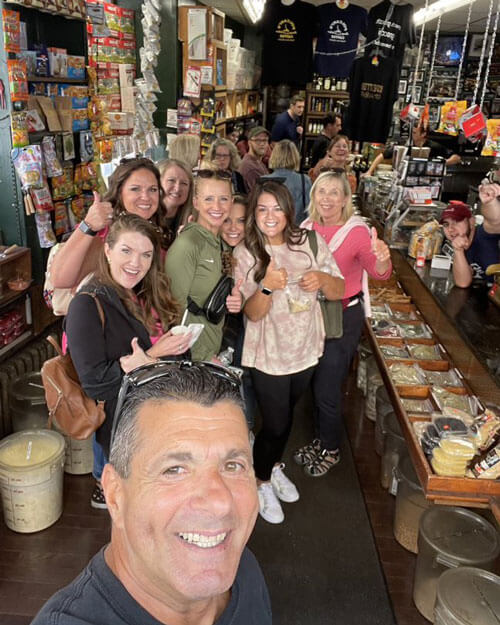 What We'll Do Together
During our time together, we will do a lot of exploring. We will travel the back streets and eat our way through the hidden gems of the neighborhood from the early 1900s. We will explore the famous Hanove3r and Salem streets which contain the best restaurants, pastry shops, bakeries, and wine stores. When you tour with me, you will feast on food and culture. You should be prepared to:
Discover the only wood-fired brick oven

Tour the oldest bakery since 1907
Have all your senses sharpened at the 1932 coffee and spice shop
Experience Italian Salumerias (delis) specializing in imported meats and cheeses
Discover award-winning pastry shops featuring the famous cannoli
Learn and interact with a culture that dates back to the first Italian immigrants
Feel like a local meeting and eating like REAL ITALIANS.
COME HUNGRY!!!
The Experience of a Lifetime
If you are ready to have the experience of a lifetime, come on down to North End Boston Food Tour and meet your tour guide in Boston, MA. North End is a quaint little town that boasts of Italian history, culture, delectable food, and immaculate wine. When you go on a tour with us, you will experience the neighborhood just as a local does. With a lifelong resident guiding you around, you won't miss out on any important details. Reach out to us today to book a tour with us.
Schedule a Tour With Us Today